The Leading HVAC Contractor in Adrian & Monroe, MI!
---
Choose a Southeast Michigan contractor with decades of experience performing quality HVAC installations for even the largest and most complex projects!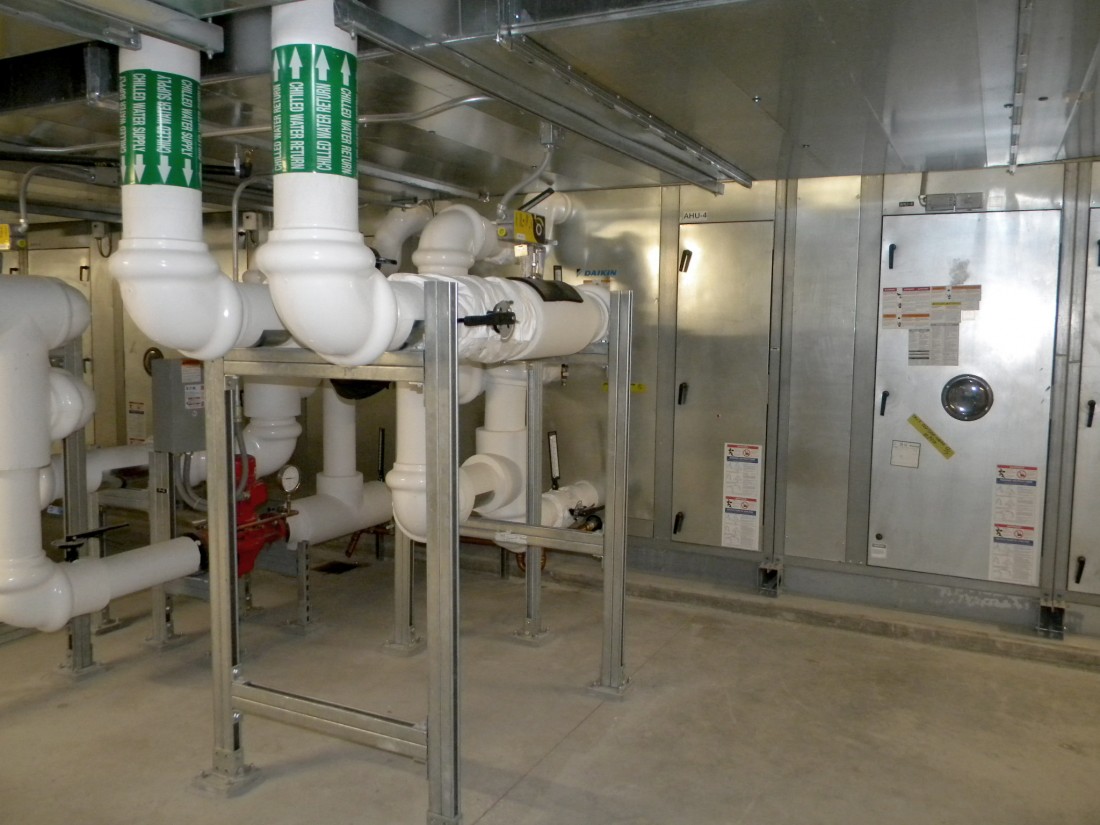 From servicing the HVAC (Heating, Ventilation, & Air Conditioning) systems for DTE Energy's Monroe Power Plant, to your child's kindergarten classroom, our goal is to offer you the best possible heating and cooling solutions.
In Adrian, we completed the state of the art HVAC system at Hickman Hospital completed in 2020. In Monroe, we have completed La-Z-Boy's new World Headquarters, Monroe County Community College's new Career Technology Center, and a 358,000 square foot renovation of the Motherhouse for the Sisters, Servants of the Immaculate Heart of Mary - all of which feature energy saving geothermal HVAC systems. We are currently performing Geothermal Mechanical upgrades for the original Monroe County Community College Campus.
One of our largest customers is The University of Michigan. We have installed chillers, boilers, medical gas systems, laboratory gasses, plumbing systems and complete heating, ventilating, & air conditioning (HVAC) systems for numerous multi-story buildings at U of M over the past 30 years.
Experienced in Complex Municipal, Commercial, & Industrial HVAC Installation, Maintenance & Repair
Our Industrial and Commercial HVAC Services Include:
Heating, Ventilating, Air Conditioning
Refrigeration & Refrigerant Recovery
Certified Welding
24-Hour Emergency Service
Design & Build
Estimating
Engineering
Boiler Repairs
Energy Conservation & Heat Recovery
Pipe Fabrication
Computer Aided Drafting (CAD) & Revit
We have an excellent service department, and offer 24-hour emergency service. We recover refrigerant, certify backflow preventers, perform CSD-1 inspections, troubleshoot control and electrical problems, and service & maintain a variety of HVAC/Plumbing/Refrigeration systems and equipment. We are one of only 18 service contractors in the State of Michigan to achieve the prestigious MSCA STAR designation.
When the Health, Safety, and Comfort of Building Occupants are on the Line, Hire a Certified MSCA STAR Contractor
---

Contractors that achieve MSCA STAR Qualified status belong to an elite group of contractors. These contractors have verified that they uphold a strict code of business ethics, employ the best trained and most qualified workforce, maintain a safety record above the industry average, offer outstanding customer service, and focus on continuing education and training for all employees.
---
For additional information regarding our qualifications, to request a bid, or to schedule service for any of your HVAC needs, please contact us today to speak to a member of our team. We service facilities in Adrian, Monroe, Detroit, Ann Arbor, Ypsilanti, Canton, Taylor, and the surrounding areas in Southeast Michigan.