Commercial Air Conditioning Installation and Repair Services
---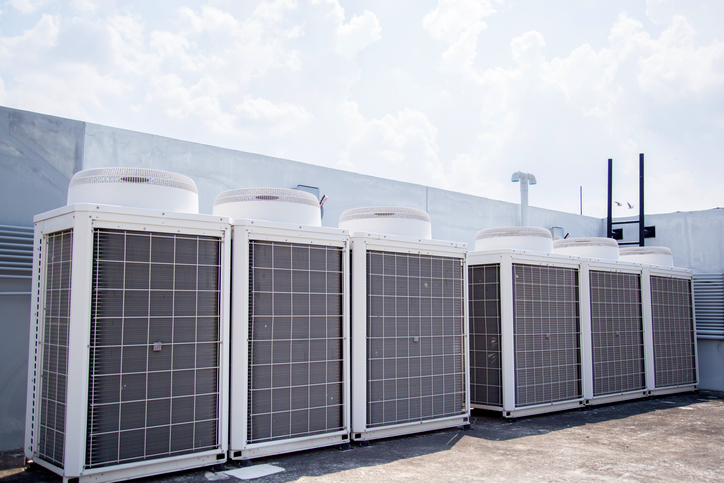 When commercial HVAC systems malfunction, costly business interruption is sure to follow. Fortunately, the Monroe Plumbing & Heating team is available 24/7 for emergency service. We'll dive in and work hard to get you up and running as soon as possible.
Since 1948, Monroe Plumbing & Heating has been the name to call for commercial AC installation and repair jobs. We approach every project with diligence, dedication, and eagle-eyed attention to detail. When you call us, you'll get a team of highly trained technicians with the experience you need. We've worked with a variety of HVAC systems, including furnaces, boilers, air conditioners, heat pumps, and more.
Whether you need routine HVAC maintenance, emergency air conditioning repair, or a complete commercial HVAC system replacement or upgrade in your building, we've got what it takes to keep you cool.
Contact us now to request a bid!
Industrial and Commercial HVAC System Services
---
When it comes to commercial HVAC equipment, we do it all. Our services include:
Heating, Ventilating, Air Conditioning
Refrigeration & Refrigerant Recovery
Certified Welding
24-Hour Emergency Service
Design & Build
Estimating
Engineering
Boiler Repairs
Energy Conservation & Heat Recovery
Pipe Fabrication
Air Quality Improvements
Computer Aided Drafting (CAD) & Revit
---
Comprehensive Care for Commercial Air Conditioning Systems
Often, commercial AC units require more expertise and care than residential units. From preventative commercial HVAC maintenance and tune-ups to emergency repairs and new HVAC system installations, we handle it all with professionalism and courtesy.
As experts in commercial air conditioning repair and installation, we recover refrigerant, certify backflow preventers, perform CSD-1 inspections, troubleshoot control and electrical problems, and service and maintain a variety of HVAC, plumbing, and refrigeration systems and equipment.
Uncomfortable temperatures and poor indoor air quality take a toll on your employees and visitors. Take control of your climate with Monroe Plumbing & Heating Company. Our comprehensive range of services keeps your commercial cooling system functioning efficiently for years down the line.
We provide commercial air conditioning services in Monroe, Adrian, and all across Michigan. To learn about our commercial AC repair availability and commercial maintenance programs or speak with a local industrial HVAC contractor today, contact us online or by phone at (734) 241-4277.
Call Now for Quality Commercial Air Conditioner Services in Monroe, MI
At Monroe Plumbing & Heating Company, our recipe for success is simple: deliver reliable results at fair costs. Our work is backed by a satisfaction guarantee, so you know you're getting the best of the best for your commercial building. With over 75 years of outstanding customer service, we're proud to be an MSCA STAR Qualified Contractor with terrific testimonials to prove it.
If you're interested in a new commercial air conditioner or are in need of maintenance or repair for your current commercial air conditioners, contact us at Monroe Plumbing and Heating. We work with your schedule and we're always available to answer your questions. We proudly serve Monroe, Lenawee, Wayne, and Washtenaw County and surrounding areas.
CALL NOW for commercial air conditioning services!
---
For additional information, please contact us today to speak to a member of our team. We service facilities in Monroe, Adrian, Detroit, Ann Arbor, Ypsilanti, Canton, Taylor, and the surrounding areas in Southeast Michigan.