Efficient Power & Process Piping Solutions in Southeast Michigan
---
When it comes to power & process piping, precision and reliability are paramount. At Monroe Plumbing, we have built our reputation as a trusted partner for businesses seeking top-tier piping solutions. We provide power or process piping to companies such as DTE Energy, Guardian Industries, Michigan Paving & Materials Co., Gerdau, and Hanwha, showcasing our ability to work with a variety of industries.
With our team of seasoned experts and a track record of excellence, we deliver the highest standard of precision, safety, and efficiency in every project. For industrial piping like power and process pipes, safety is crucial to us. Our process piping systems undergo strict safety inspection and testing before installation so that the pipes in your industrial facility can remain secured for a long time.
Safe Industrial Process Piping
---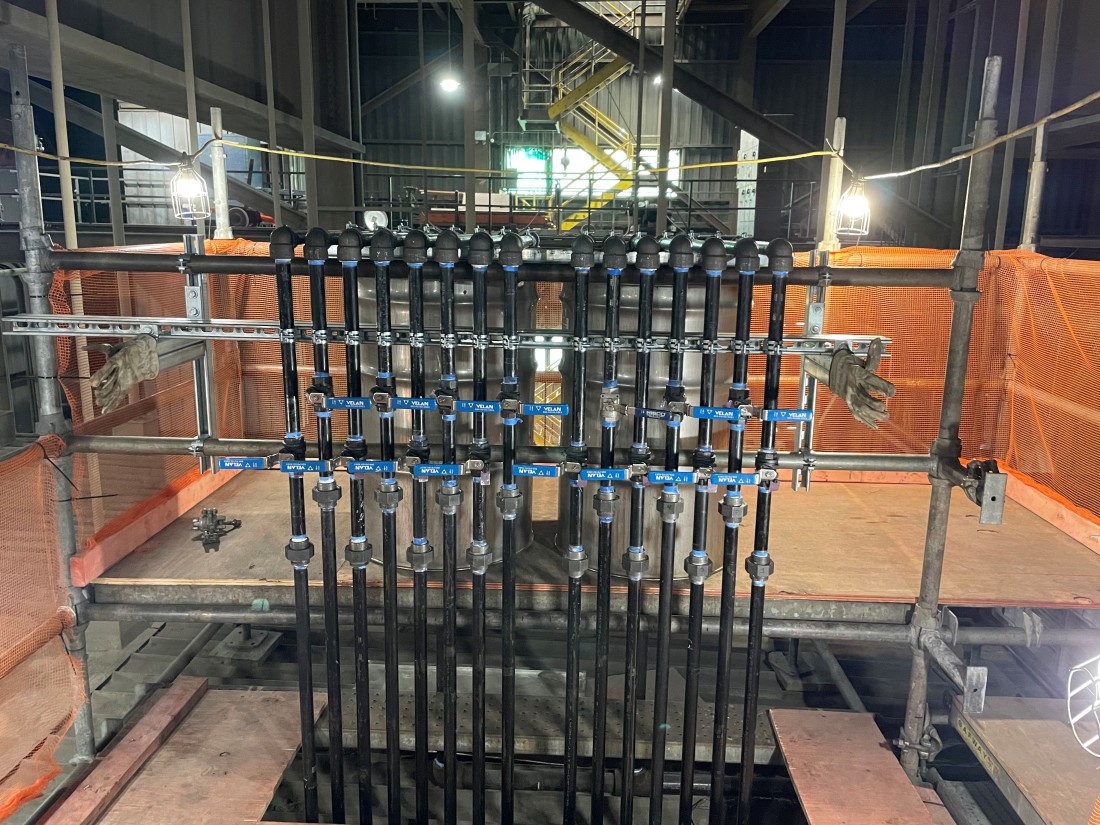 When transporting steam, chemicals, and other necessities through power or process pipes, it's essential to utilize piping material that can safely handle any industrial process. Our stainless steel process piping design can transport a wide range of materials safely and reliably. Our process piping fabrication designs pipes to meet specific state and national requirements, such as maintaining the correct temperature, pressure, and flow control.
Our power pipes not only adhere to stringent safety requirements to safeguard your power plant but also contain piping components that consistently surpass industry standards. Our pipes effectively transport high-pressure steam, superheated water, and all essential fluids vital for electricity generation with unmatched reliability.
What Is the Difference Between Power & Process Piping?
It's important to recognize that process and power piping are a part of your plumbing system. A plumbing system moves sewage and water, whereas power and process pipes are essential for carrying raw materials for power and processing plants. For a power plant, that typically means steam, whereas a processing plant will normally move manufacturing materials like chemicals, gases, or other liquids.
Power and process pipes are not the same. They need to be specially designed to move your specific materials. That's why our team at Monroe Plumbing works as the fabricator and installer of your pipes. Each pipe will be designed to fit the needs of your power or process plant with specific piping and tubing that safely transports your needed raw materials.
Providing Piping Solutions Since 1948
---
Since our establishment in 1948, Monroe Plumbing & Heating Company has been a trusted partner for commercial, industrial, and municipal clients with diverse needs for extensive plumbing installations and services.
While our name may suggest focusing on plumbing and heating, we are far more than that. In fact, over 90% of our valued clients rely on us for large-scale projects in commercial, municipal, and industrial sectors. Our extensive experience, well-equipped team, and top-notch resources enable us to tackle even the most complex and demanding projects.
With a rich history spanning more than seven decades, we've earned our esteemed reputation by delivering responsive, top-quality services that offer you the assurance that your facility operates safely, efficiently, and with minimal downtime.
Contact Our Power & Process Piping Contractors
Contact Monroe Plumbing today, and let our dedicated team of experts guide you through every phase of your process and power piping needs. Whether you require design, installation, maintenance, or upgrades, we provide tailored solutions that meet your unique requirements.
With a proven track record and a commitment to excellence, Monroe Plumbing is your trusted partner for all your power and process piping needs. Reach out to us today, and let's collaborate to bring your piping projects to fruition with precision and reliability.