Commercial Plumbing & HVAC Contractor in Monroe, MI
Since 1948, Monroe Plumbing & Heating has undertaken a wide range of projects. Notable accomplishments by our expert team include the construction of Michigan's largest retail store, Cabela's in Dundee, and the installation of emergency backup systems at the University of Michigan's University Hospital. We pledge to provide your project with the same level of dedication and attention to detail.
Whether you need routine maintenance, emergency plumbing repairs, or a complete HVAC system replacement in your commercial building, we've got you covered.
Contact Our Monroe Location CALL NOW
Professional Commercial Plumbing Services in Monroe
---
At Monroe Plumbing & Heating Company, we are dedicated to providing top-quality plumbing services to our industrial and commercial customers in the Monroe, Michigan area. Our experienced and licensed plumbing contractors are equipped to handle a wide range of plumbing issues, from routine maintenance and repairs to complex installations, new construction, and remodels.
In addition to our usual plumbing services, we also offer 24/7 emergency service for urgent plumbing issues. We know plumbing emergencies can strike at any time, so our team is always on call to provide prompt solutions that protect your property from water damage.
If you need plumbing services in Monroe or the surrounding areas, don't hesitate to contact us. Schedule an appointment or request emergency service from a Monroe industrial plumbing contractor
online
or by phone at
(734) 241-4277
.
Services We Offer To The Monroe, MI Area
Drain Cleaning & Pipe Inspection
Pipe Fabrication
Certified Welding
Power & Process Piping
Medical Gas Piping
Heating, Ventilating, Air Conditioning
Refrigeration & Refrigerant Recovery
Energy Conservation & Heat Recovery
Indoor Air Quality Improvement
Computer Aided Drafting (CAD) & Revit
24-Hour Emergency Service
Professional Commercial HVAC Services in Monroe, MI
---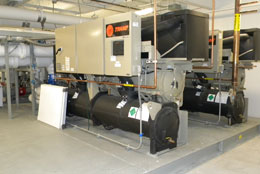 When commercial HVAC systems fail, it can bring the workday to a standstill. Luckily our team is available 24/7 for emergency repairs, so you can always count on us to be there when you need us. We'll work diligently to get your system back to its optimal performance ASAP.
Let us help you control your climate with professional repair, regular maintenance, and installation of heating and cooling systems. At Monroe Plumbing & Heating Company, we offer a comprehensive range of HVAC services to keep your business comfortable all year round. Our team of highly trained technicians have experience working with a variety of HVAC systems, including furnaces, boilers, air conditioners, and heat pumps. We serve Monroe, Lenawee, Wayne, and Washtenaw County and surrounding areas.
In addition to our HVAC services, we also offer indoor air quality solutions to help you breathe easier in your home or business. From air duct cleaning and filtration to humidifiers and dehumidifiers, our professional technicians can help you create a more comfortable and healthy living or working environment.
To speak with a Monroe industrial HVAC contractor today, contact us online or by phone at (734) 241-4277.
Make Monroe Your Trusted Partner for Plumbing, Heating, and Cooling
At Monroe Plumbing & Heating Company, we are committed to providing high-quality workmanship. With every job we tackle—from new HVAC installation for industrial properties to emergency plumbing service for commercial buildings in Monroe—our goal is to deliver precise and reliable results at fair costs. We stand behind our work with a satisfaction guarantee, so you can trust that you're getting the best of the best. With over 75 years of outstanding customer service, we're proud to be an MSCA STAR Qualified Contractor with glowing testimonials to back it up.
If you're in need of a commercial plumbing contractor, commercial HVAC services, or indoor air quality solutions, don't hesitate to contact us at Monroe Plumbing and Heating. We work around your schedule and we're always glad to answer any questions you may have.
Contact Our Monroe Location CALL NOW
---
For additional information, please contact us today to speak to a member of our team. We service facilities in Monroe, Adrian, Detroit, Ann Arbor, Ypsilanti, Canton, Taylor, and the surrounding areas in Southeast Michigan.